New Ways to Work announces alliance with Educate California to expand its comprehensive efforts to connect at-risk youth with resources and opportunities. The alliance creates more support for middle and high school aged children to prepare them for college, careers, and life after high school
(August 24, 2022-Los Angeles — With a history that extends more than five decades in workforce and career development, New Ways to Work announced today Educate California will integrate its educational services portfolio with New Ways to Work to help families prepare their middle and high school aged children for college, careers, and life after high school. With California's student-to-counselor ratio at 527:1, this alliance equips high school students with the comprehensive support that they need to fully pursue their educational dreams and career goals.
"California students deserve the chance to thrive in the classroom and beyond," said Robert M. Sainz, President & Executive Director of New Ways to Work. "For far too long, children who live in communities with minimal financial resources have suffered. We are proud to stand with Educate California and provide educational support that impacts communities for generations to come."
Through partnerships with community-based organizations, non-profits, and governmental agencies, Educate California provides in-person and virtual LifePrep Academy training sessions. This vital assistance connects students and their parents with essential knowledge, skills, and resources that students need to graduate, pursue college, and become workforce ready. With college and career readiness workshops for families with low-to-moderate income, Transition Age Youth (TAY), and larger Opportunity Youth populations, the merger tackles the devastating impacts caused by inadequate educational support in communities that have historically suffered.
"We are thrilled to align with an organization with a proven history of advocating for the diverse tools that students need to excel in an ever-evolving economy," said Eric Moore, Executive Director of Educate California. "With the guidance of New Ways to Work, we can expand our reach, improve outcomes, and provide students with the educational nurturing that allows them to compete and achieve self-sufficiency."
As part of the new alliance, Educate California will operate under the New Ways to Work infrastructure providing guidance in strategic planning, fiscal management, and general operational support. To learn more about New Ways to Work, please visit https://www.newwaystowork.org. For more information about Educate California, please visit https://www.educate-ca.org/.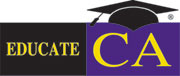 About Educate California
Established in 1998, Educate California has a longstanding history of working with public entities including the Los Angeles County Office of Education, California State University (Chancellor and numerous campuses), Los Angeles County Department Public and Social Services & Department of Children and Family Services, several YouthSource and FamilySource Centers and more than 50 church and nonprofit partners. By empowering families to advocate for their children and to partner with their children's counselors, Educate California has helped thousands of youth become the skilled and prepared workers that California communities need for economic success.